Ace Pest Experts Deals With Any Pest in Kingston Upon Thames Area
Having many years of experience as a pest control company in Kingston Upon Thames helped us to obtain a lot of knowledge and expertise about all types of pests. The teams of professional pest exterminators have dealt with various kinds of infestations in the most effective manner.

Rodent control and bed bugs treatment are the most booked services we offer. However, Ace Pest Experts are able to treat your premises for a much wider range of vermin, including rodents, insects, and birds.
Additional Pest Control Services Offered by Ace Pest Experts in Kingston Upon Thames
The fully-trained and certified pest controllers have the availability to use modern equipment in order to perform different kinds of services. Below you can find most of the pests species Ace Pest Control offers for the Kingston Upon Thames area:
Wasps, including wasp nests
If you notice any signs of infestation with any of the pest species listed above, take immediate action and give us a call. In case of emergencies, if the schedule is not full, you may even take advantage of the same-day pest control services we offer.
Even More Pest Control Services You Can Book Before or After the Pest Extermination
Yes, Ace Pest Experts can provide you with even more additional pest control services within the Kingston Upon Thames area. Take advantage of the following services before, during or after a pest treatment in order to secure a guaranteed pest-free premises.
If you run a local business in Kingston Upon Thames the last problem you want to deal with is pests. This will not only disappoint your customers, but there is a huge risk of getting a fee for not maintaining health-free conditions at the workplace.

So if you face any pest problems at your commercial property Ace Pest Experts will gladly lend you a helping hand to keep your business safe from pesky rodents, insects or birds.
Having a carcass somewhere on your property without being treated with pesticides or other methods of pest control can cause to be very harmful for your health condition. The dead body of the animal should be removed as soon as possible to avoid disease transmission. Disposing of the carcass on time will also prevent other animals from being attracted to the dead animal's carcass.
Of course, Ace Pest Experts again have an effective solution to this problem. In case you need dead animal removals service, we can help you, however only for species which will fit into the vehicle.
* Large mammals such as cows, horses, deers and more will not be taken by the technicians because of their extra large size.
Pest Sanitation and Disinfection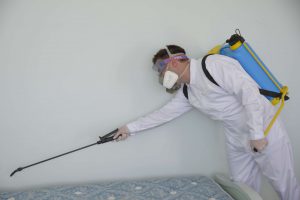 All pests leave traces behind them which are considered as dirty and unhealthy. To name a few bird faeces, mice and rat droppings, red bloody spots from bed bugs…
In addition to this, after a pest control session, the treated surfaces remain covered in pesticide which we recommend to be removed about 5 days after the treatment. In case you don't have the opportunity to sanitize your property on your own.
The Pest Control Services in Kingston Upon Thames to Choose
If your domestic or commercial property is not vermin-free you need to seek professional help as soon as you notice any signs of infestation. Ace Pest Experts have all the necessary experience and equipment to deal with any kinds of pest infestations.
Dial 020 3404 1493 now and one of our friendly customer care assistants will be more than happy to help you choose the best service for your needs. Professional pest controllers are available everywhere in Kingston Upon Thames area and you can rely on them for a comprehensive inspection and efficient treatment.